Hourly Pricing is a great rate to save if you own an electric vehicle because saving money makes life easier.
Enroll in Hourly Pricing, and you can reduce your energy demand and drive away with a little extra money in your pocket.
What is Hourly Pricing?
ComEd's Hourly Pricing is an electric supply rate that lets you pay for electricity at the hourly market price. By shifting some of your energy use to lower-priced hours, you could spend less on your monthly bills and more on what matters to you.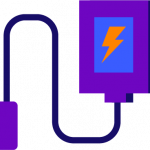 Many plug-in hybrid and electric vehicles offer scheduled charging, so your car charges at night. By setting your EV to charge between 1 a.m. and 5 a.m., when prices are typically lowest, you could save 17%* compared to ComEd's fixed-price rate.
Join thousands of electric vehicle owners who've chosen ComEd's Hourly Pricing.
Shift energy use, save on your bills
Hourly prices typically follow predictable seasonal patterns and tend to be lower during mornings, nights and weekends. We send real-time alerts when prices are high to notify you to reduce energy use. We also send day-ahead alerts when electricity is expected to be in high demand for the following day.
You may also visit our prices page to see real-time and day-ahead energy prices.
"Switching to ComEd's Hourly Pricing has significantly lowered our electricity bills, despite consuming an average of 300 kWh per month charging our Tesla."
— Dale S., Tesla Model S owner from Chicago, IL who has saved an average of $250 annually since 2017†
If you have questions or would like to know if you're a good fit for Hourly Pricing, call us at 888-202-7787.
ComEd's EV Toolkit
Don't own an electric vehicle yet? Check out ComEd's EV Toolkit to compare the estimated annual fuel costs and carbon footprints of electric and gasoline-powered vehicles. Thanks to Hourly Pricing, getting an EV can be more attainable and cost-effective.
* Average percent energy supply savings for Hourly Pricing participants with electric vehicles from January 2007 to June 2022 
† Actual savings may vary and are dependent on usage and rate.