Online Tools
Each month after your bill is calculated, you will be able to log in to your account to access a breakdown of your hourly electricity usage and costs, as illustrated in the graphs below.
You'll also see a bill comparison tool that automatically compares your costs with Hourly Pricing to what you would have paid on ComEd's standard fixed-price rate, as shown in the example table below.
To access the online tools, log in as a participant using the My Hourly Pricing Account button at the top of this page.
Mobile App
Announcing Access to Real-Time Prices and Tools via ComEd's Mobile App
A new enhancement allows you to easily check real-time prices, access your savings information, see how your savings compare against other participants, and quickly connect to Hourly Pricing program specialists.
The free ComEd mobile app is available for download on iPhone® and Android™ devices. Additionally, on the ComEd mobile app, you'll be able to:
Report a power outage and check restoration status
View account summary and history
Manage payments, including budget billing, automatic, and one-time payments
Submit a meter reading
Find a ComEd bill-payment location
To download the free app, visit ComEd.com/app or search "ComEd" in your smartphone's app store. If you previously downloaded the ComEd app, please download the latest update to access the new features available to Hourly Pricing participants. The tools only available to Hourly Pricing participants can be found by navigating to the plus sign labeled "more" at the bottom right corner of the screen.
This Hourly Pricing ComEd app enhancement is part of a program commitment to provide you with new tools and resources that make saving energy and money even easier. Download the app and then send us your thoughts at info@ComEdHourlyPricing.com.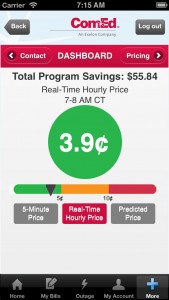 Hourly Pricing Automation Tool
ComEd has collaborated with IFTTT ("If This Then That"), a free, web-based service, to create applets for customers enrolled in the Hourly Pricing program. These applets work with your energy-related home products to help you take advantage of energy-saving opportunities.
Click to learn more or get started.
Archived Newsletters