TIPS FOR SAVING MONEY ON HOURLY PRICING THIS SUMMER
This summer may be a hot one, but that doesn't mean you can't take control of your costs with Hourly Pricing. We've put together a few important tips so you can enjoy the warm weather and cool savings this summer.
WHEN TO SHIFT AND SAVE
Maximize your summer savings potential by shifting your energy use away from higher-priced hours. During summer, higher-priced hours are 1 p.m. to 5 p.m. It's as simple as running your dishwasher, using air conditioning, and doing laundry when prices are lower.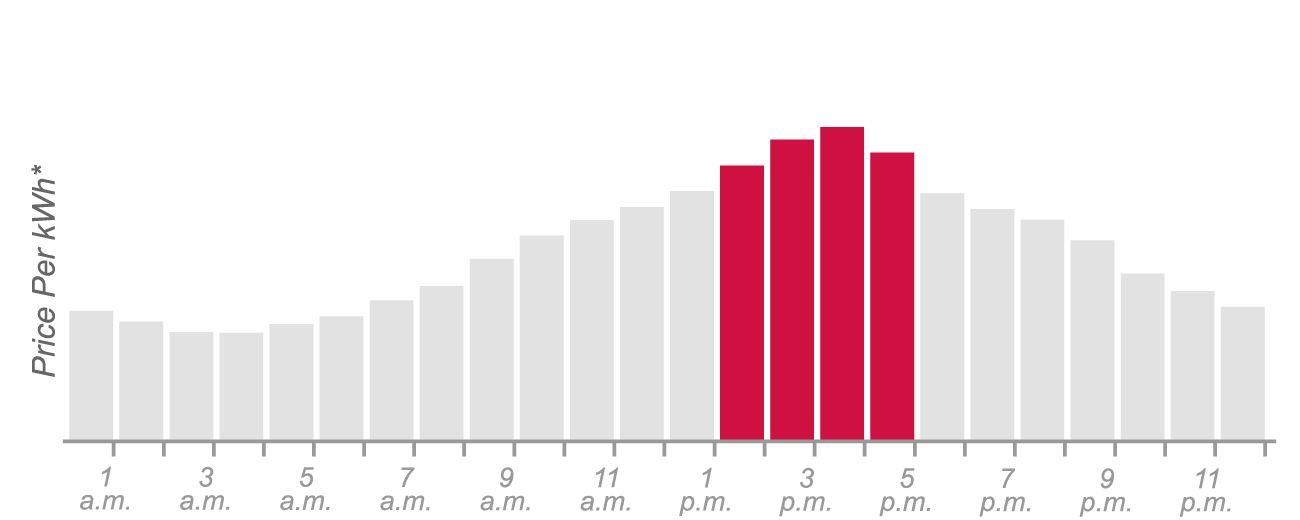 *Based on average prices for June 2016 through September 2018
HOW DO YOU COOL YOUR HOME?
Pre-cooling your home is a big savings opportunity. Lower your thermostat during the night and early morning and set it to a higher temperature during the afternoon.
This will help keep your home cool the following day, so you won't need to run your air conditioner when energy prices are typically higher.
To retain cool air throughout the day and keep the sun from heating your home, close window treatments and blinds during the day.
Set your ceiling fans to spin counter-clockwise in the summer so that cool air is pushed down for a cooling effect.
Don't forget to close window treatments and blinds during the day to keep the sun from heating your home. Open windows at night for cool, fresh air.
Run your window air conditioner during the night and early morning when prices are typically lower, and turn it off when you're not at home.
Close window treatments during the day so your home will retain this cool air while you're out and you won't need to run your air conditioner when energy prices are typically higher.
Take advantage of smart plugs for control over your window unit even when you're not at home!
DON'T MISS OUT ON HOURLY PRICING ALERTS
Hourly Pricing Alerts help you save by telling you to reduce now or tomorrow. Alerts are sent when the real-time market price of electricity is trending high or if energy is expected to be in high demand the following day. Hourly Pricing Alerts can also help you reduce the Capacity Charge on your future energy bills.
If you receive an alert, just take the same actions you normally would during high-priced hours, like delaying the start of major appliances or raising your thermostat a few degrees.
Subscribe to or update your alert notification preferences by logging into your My Hourly Pricing Account, which is different from your ComEd.com account. Alerts can be sent to you via email, text message, or phone call. Real-time and day-ahead prices are available on the Live Prices webpage, the ComEd mobile app, and by calling 888-202-7787.
WHAT OTHER ACTIONS CAN YOU TAKE?
Dishwashers and clothes dryers not only use a lot of energy but also release unwanted heat when in use. To help you keep cool and keep costs low this summer, run your dishwasher overnight and do laundry on the weekend.
Take advantage of those pleasant summer nights and opt for cooking dinner outside on the grill instead of on your stove or in the oven. You'll use less energy and keep the excess heat out of your home.
Automate your savings and connect your smart thermostat to IFTTT for even more control over your energy costs and use. Don't have a smart thermostat? Head to ComEd Marketplace to get instant rebates and discounts on energy-efficient products for your home that can help you save money and energy.
From all of us on ComEd's Hourly Pricing Team, have a great summer!